january 2-11, 2015
It all started one day after New Years at 5am. Maett surprised Marlyn with a trip to Maui in Hawai'i. What a trip that was! This island is incredible rich in every aspect - lots of good food, rich and beautiful nature and wildlife, great people, gorgeous sunrises and sunsets, incredible beaches, crazy waves, bluer water than you can imagine and loads of fun and things to explore.
Randomly we were in Maui at the same time like our friends Roger & Mattia. So we decided to explore together which was even more fun. We ended up staying in our friends self-built treehouse, camping by the beach, staying with another friend, climbing steep walls to get to natural pools, stand-up paddling, snorkling, holding our breath under water to hear the crazy loud humpback whale songs, cruising around in our Ford Mustang, finding our way through a bamboo forest, having way to much fun and enjoying two great church services and home-gathering. Thank you everyone who helped making this trip an unforgettable experience - but especially to Maett for this incredible, amazing and wonderful surprise!
Das alles hät ein Tag nach Neujahr am 5i am Morgä aagfangä. Dä Maett hät d'Marlyn mitemä Trip uf Maui z'Hawai'i überrascht. Und was für än Trip das gsi isch! Diä Inslä isch riich i jedäm Aspekt - feins Ässe, wunderschöni und riichhaltigi Natur und Tierwält, super Lüüt, WOW-Sunneufgäng und Sunneuntergäng, unglaublichi Stränd, krassi Wälle, blauers Wasser als mä sich chan vorstellä und so vil Spass und Sache zum entdeckä.
Zuefälligerwiis sind mir glichziitig z'Maui gsi wiä eusi Fründä Roger & Mattia. Also händ mir eus entschlossä zum diä Insle zäme z'entdeckä was zu na meh Spass gfüehrt hät. Mir händ schlussendlich bimä Fründ sim sälber bautä Baumhuus übernachtä, campierä am Strand, bimerä anderä Fründin übernachtä, steili Steiwänd abechlätterä zum zu natürlichä Pools z'cho, Stand-up Paddling, Schnorchlä, d'Luft aahaltä under Wasser zum diä crazy luutä Buckelwal-Gsäng aazlosä, umecruise mit eusem Ford Mustang, eusä Wäg dur dä Bambuswald findä, vil zvil Spass ha und zwei super Gottesdienst und amä kuulä Huuskreis teilnäh. Dankä a alli wo gholfä händ dä Trip sonäs unvergässlichs Erläbnis z'machä - aber vorallem an Maett für diä unglaublich, genial und wunderschöni Überraschig!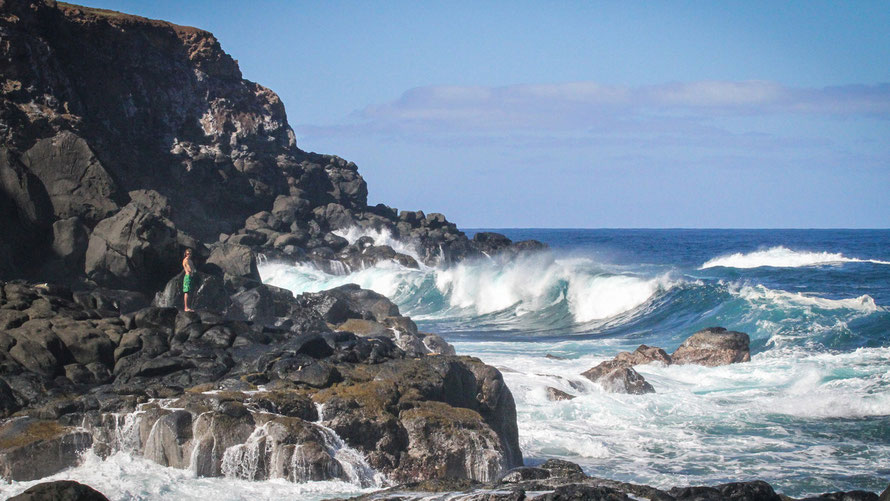 Puliawa Point in Maui, HI