november 5+12+19+26+28-30, 2014
Another throwback to our time in Mammoth with even more adventures in November. With the girls, Marlyn had a couple more hikes before winter. The hikes led to Convict Lake, Sherwin Lake, Twin Lake Falls and Crater Lake.
At the end of the month, we went to Reno with Anu and had some fun exploring, shopping and staying with our friends Kub and Katie.
On the way back to Mammoth we met our other friends Al & Laura and Patrick & Becca for the search for a Christmas tree. Stomping through the fresh snow, everyone found their perfect tree. Ready for Christmas time!
Än wiitere Rückblick vo euserä Zyt in Mammoth mit meh Abentüür im November. D'Marlyn hät na ä paar meh Wanderigä gha mit ihrnä Frauä vorem Winter. D'Wanderigä händ zum Convict Lake, Sherwin Lake, Twin Lake Falls und Crater Lake gführt.
Am Endi vom Monet sind mir uf Reno mit dä Anu und händ euse Spass gha zum entdeckä, shoppe und mit eusnä Fründe Kub und Katie zäme zsii.
Ufem Wäg zrugg uf Mammoth händ mir eusi anderä Fründe Al & Laura und Patrick & Becca troffä zum än Christbaum go suechä. Im frische Schnee händ alli vo eus dä perfekti Baum gfundä. Parat für d'Wiehnachtszyt!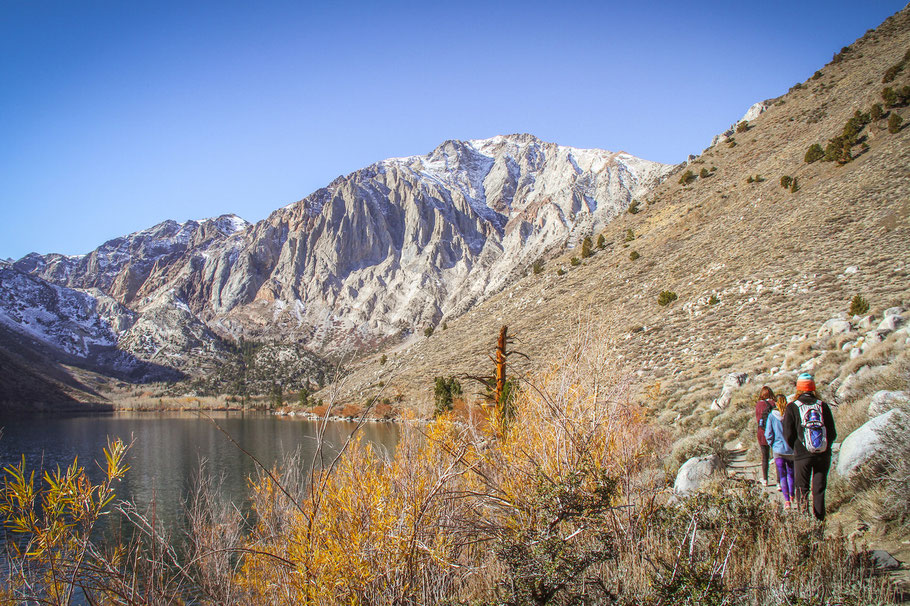 Girls Hike at Convict Lake
Frauä Wanderig am Convict Lake